Jaliwang Journey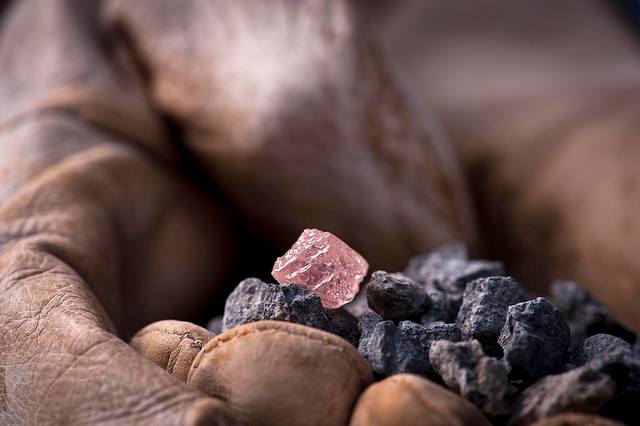 Duración: 12 Horas (aproximadamente)
Ubicación: Kununurra, Western Australia
Código de producto: JJ
The ultimate air, land and sea journey combining diamonds, Dreamtime stories and a sunset cruise.

Departing Kununurra at 7am via light aircraft, we are joined by local man Ted Hall. Ted is one of the Miriuwung and Gidga traditional owners of the Argyle Diamond Mine Site. We follow in the trail of the Dreamtime 'Jaliwang' (Barramundi) and Ted shares his mother's enchanting story of the Jaliwang. We enjoy great views over the Sandalwood plantations; the glorious Ragged Ranges and Argyle Diamonds' mine-site at Matso Range. After 50 minutes we land at Warmun Community near Ted's home on Glen Hill Station (Mandangala), where we are welcomed with a traditional 'Muntha' ceremony. We enjoy traditional billy tea and damper at the world-renowned Warmun Arts before Gidja artists guide us through the gallery.
Next, a coach takes us through the 'back road' to the Argyle Diamond Mine. Once through security, we look out over the processing plant while our Luridgii guide tells of the geological formation and the discovery of diamonds on their country. We learn about how the mine has benefited his people, but also about the sorrow at the desecration of this important sacred site. Our Luridgii guide will show us some of largest diamonds ever extracted. At the mine-site village we'll enjoy a gourmet picnic lunch and refreshments.
Next, we join Lake Argyle Cruises for an afternoon and sunset cruise across the full length of Lake Argyle. We enjoy a sunset swim accompanied by a glass of wine/beer and nibbles. We end our day with a coach transfer back to Kununurra, arriving home at around 7pm. What a day!
Includes: Return transfers, Complimentary lunch, fresh local melons, afternoon tea and alcoholic and non alcoholic beverages.
Average Duration: 12 hours
Transfers: Pick up is available from accommodation in Kununurra or Lake Argyle.
The minimum age for this tour is 12 years.
Note: Numbers and tour dates are strictly limited, so please book early, we can take a maximum group booking of 18 pax on this tour.